Sarlat is a jewel of medieval architecture. Strolling through the old town with its perfectly preserved ocher stones, is like walking through history. Take a close look while walking through the streets and admire the elegant Gothic and Renaissance buildings. The city was founded in the 9th C., but it is only in the 15th C. and 16th C. that the beautiful mansions appear. The most famous is the former home of Etienne de la Boëtie (judge, writer and philosopher). Apart from its architectural heritage, Sarlat is a dynamic city with a taste for refined gastronomy. Enjoy the delicious specialties from the Périgord in one of the many local restaurants and, twice a week, you can buy these, as well as local products, at the streetmarket.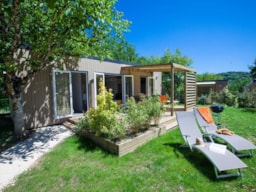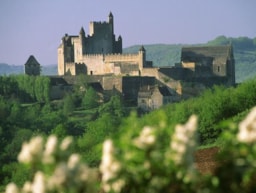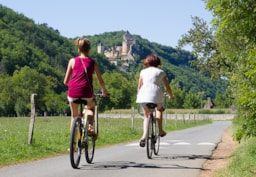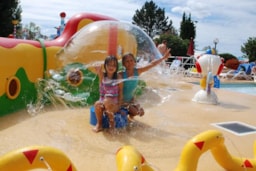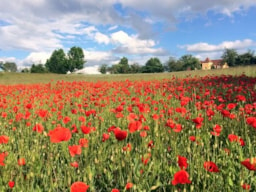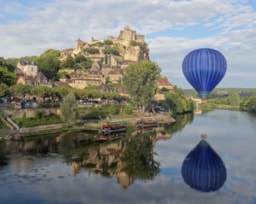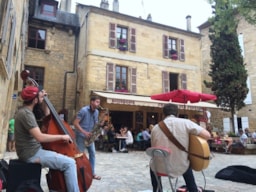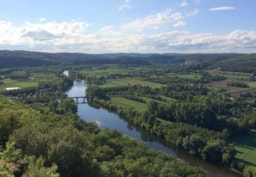 The wonders of the Dordogne Valley.
From Monfort to Saint-Vincent-de-Cosse, the Dordogne River winds through a spectacular landscape. This is the land of castles and of the most beautiful villages of France. The UNESCO has, since July 2012, placed it in the middle of the largest "Man and Biosphere Reserve" of France. It also belongs to one of the major tourist sites of the Aquitaine region since the valley includes a surprising number of exceptional sites. Medieval fortresses, classified villages and elegant castles are strung out along the river, of which La Roque Gageac, Beynac and Castelnaud are the most famous. To discover them, you can obviously follow the road along the river but another pleasant solution is to paddle down the river in a canoe.
Many campsites allow you to stay in the heart of this beautiful region. All of them guarantee you nice pitches or rentals, some with a view of a castle, others along the river.